Description
Meet PFalcon (EU) & Rico RH 25 (US) Series  , the Multi-functional thermal imager monocular. Handheld, helmet, clip-on, direct aim multi-purpose equipment, which is used for individual reconnaissance. Lighweight, small in size, easy to carry, and has the characteristics of long working time and good concealment.
Support 4 modes of use: handheld, helmet, clip-on and direct aim;

High performance 12μm VOx detectors: provide clear images at night and in 

harsh weather conditions; 
DISCLAIMER: By default the reticle is disabled on every PFN640+ unit. Unit can be still used as a hand-held monocular, but reticle function is not accessable. If your countries laws* allow using mounted thermal, the lock on reticle function can be lifted. Please contact Falconclaw for more guidance. 
* Falconclaw can guide on how to remove the lock, but is not responsible for any restrictions you might have in your country. The buyer is responsible for underanding the law in his country.
The RH25 / PFN640+ is equipped with two lengths of battery cover, which can be adapted to batteries with two lengths of 65mm and 70mm.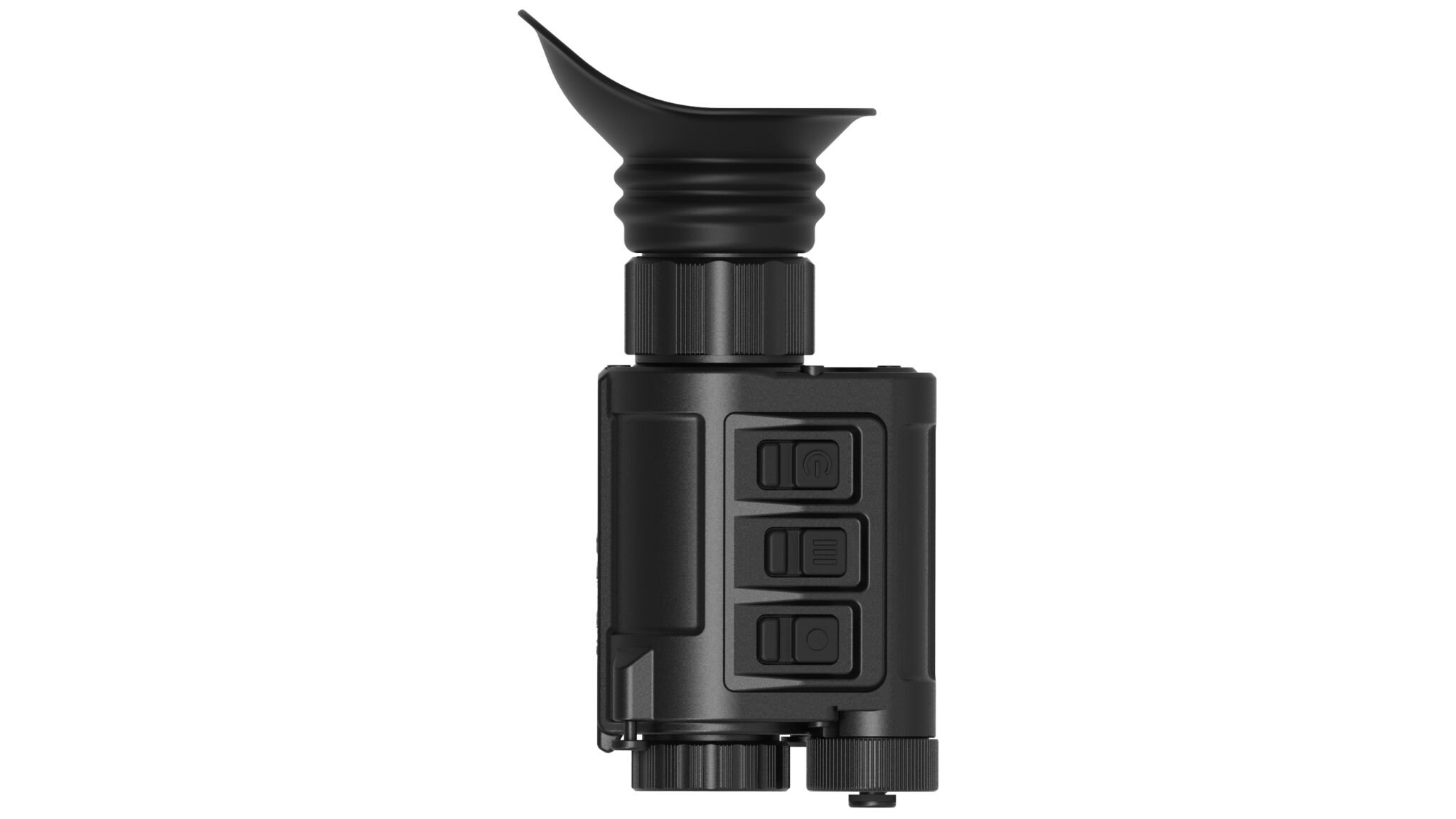 Detector
640×512/17um
Lens
f25mm
Human recognition
600m
Vehicle recognition
1070m
NETD
≤40mK
Frame rate
50Hz
FOV
17.2°x13.7°
Ocular Lens
14
Laser pointer
No
Diopter compensation
-4 to +4 dpt
Optical zoom
1x
Electonic zoom
1 – 4x
Battery life
≥ 4h
Battery type
1x 18650 (Rechargeable battery)
Display
1024×768 AMOLED
Storage
64 GB
Recoil proof
Yes
Mounting options
Handheld, helmet, clip-on, direct aim
Weight
355 g
Dimensions
105 x 65 x 48 mm
IP raiting
IP67
Operating temperature
-40°C to + 55°C
Storge temperature
-55°C to + 70°C
Other characteristics

Wi-Fi program update, transfer files;

Up to 1600 images and 40 hours of video on 64G internal memory;

3 types of calibration presets, support custom calibration distance;

The vibration absorbing bracket is connected to absorb shock vibration, and 

the image is more stable;
Soft carry-on bag
Eye-cup (2 – one picatinny mount, other for helmet mount & as clip-on)
Helmet mount (minirail)
Charging and data transfer cables
USB Power adapter (USA)
Battery charger
Battery cap for 18650 & 18700
Picatinny mount
Connector between PFalcon and helmet mount
Microfiber cloth
Tool kit
Screws (blunt tip for helmet mount / triangle tip for picatinny mount)