Description
Disclaimer!
This Device has been used but not abused by Falconclaw for content making purposes, therefore the warranty is not valid.
(Mint Condition, no scratches – feel free to ask for pictures) 1x battery in package
Featuring a fixed lens and using InfiRay's OEM 12μm ultra-sensitive detector, the Unique captures superb imagery with great contrast, even in poor weather, and will keep going longer thanks to the extra optional power pack, seamless connectivity and generous storage make the Unique an essential for the modern hunter or observer.
System functions:
The Infiray Zoom UH35 thermal imager is provided with the latest 12 micron thermal technology with 640×512 resolution and sub 25mK NETD sensitivity.  With this new powerful sensor and image algorithm, the best possible image quality is observed.
High end display resolution – 1440×1080 FHD OLED and shutterless technology.
Full Colour High Definition display, with fixed 4x optical magnification combined with digital 1-4x magnification,  the max potential magnification is 16x
32Gb of built-in memory to store photos & video footage of all your outdoor experiences
built in "Ultra Clear" mode – the UH35 is designed for use in the harshest weather providing a high quality image in all weather conditions. Ultra clear mode results in a more detailed field of view and enhanced object identification capabilities.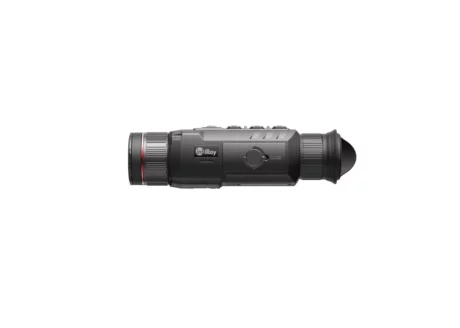 Detector
640 x 512 /12um
Lens
50mm
Detective range
2596m 
NETD
≤25mK
Frame rate
50Hz
FOV
8..8°x6.6°
Objective Lens
50mm
Laser pointer
No
Diopter compensation
-5 to +5 dpt
Optical zoom
Fixed 4x
Electonic zoom
1 – 4x
Battery life
≥ 10h
Battery type
Li-on battery pack / 4400mAh / DC 3.7V
Display
1440×1080 FHD OLED
Storage
32 GB
Recoil proof
No
Mounting options
Handheld
Weight
650 g
Dimentsions
205 x 65 x 60 mm
IP raiting
Operating temperature
-20°C to + 50°C
Storge temperature
-20°C to + 50°C
Other characteristics

32Gb of built-in memory to store photos & video footage
The built-in WiFi module
Up to 10 hours battery life
Inclinometer and E-Compass
Shutterless thermal core
5 Color Palettes