Description
The Mate Series is designed as an attachment for any type of the standard day sight. NO REZEROING is needed just CLAMP & SHOOT. 
It combines and incorporates features from InfiRay's years of experience in clip-on development. The device offers ultra-precise adjustability in the X and Y axis and score a guaranteed value of 1 MOA in terms of accuracy, surpassing all previous devices from the manufacturer.
The MAH50 is the flagship of the new Infiray MATE series
The magnesium alloy housing reduces the weight by up to 50% from previous thermal attachments.
System functions:
High-performance 640*512, 12μm detector with NETD less than 25mk combined with advanced image processing create brilliant and sharp images.
Sense-based algorithms improve image quality by setting suitable preset parameters based on different environments, forest, plain, and city  
A high-quality optical imaging system offers a distortion-free image even when used with a 10 times daytime scope.
High contrast OLED display with HD resolution offers crisp images and vivid colors. 
MAH50 meets the high-precision requirement of "POI=1MOA" even by matching it with high-caliber rifles
Removable buttons acting as a remote can be fixed near the trigger or any place of shooters liking.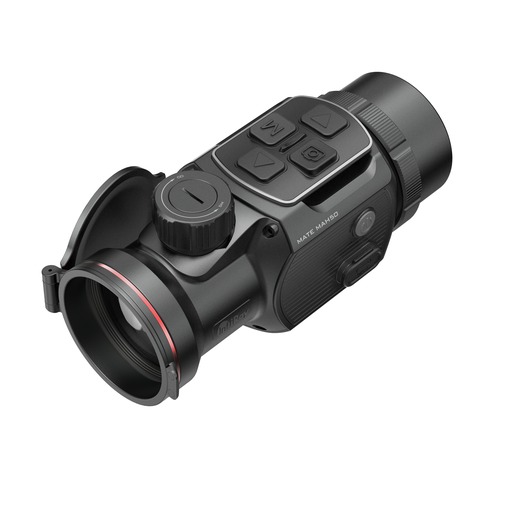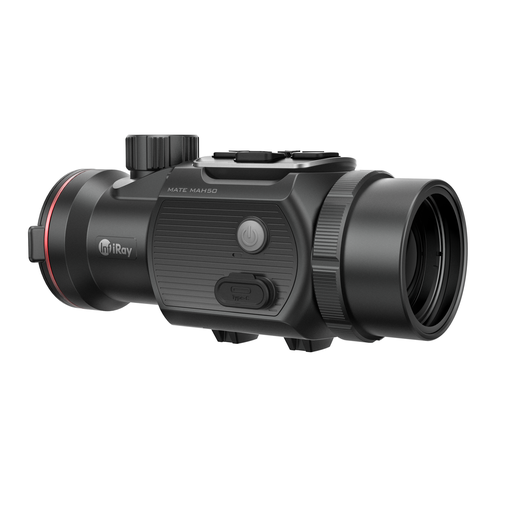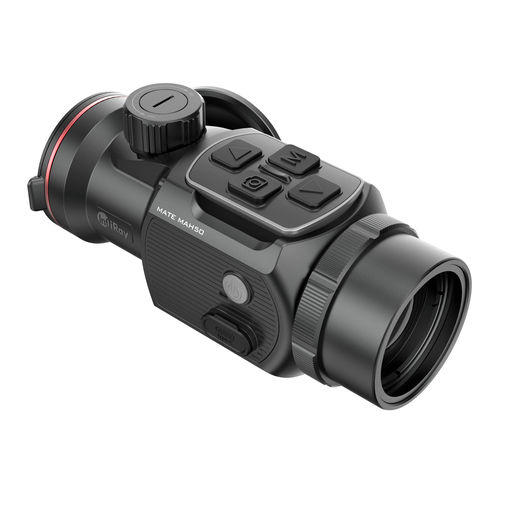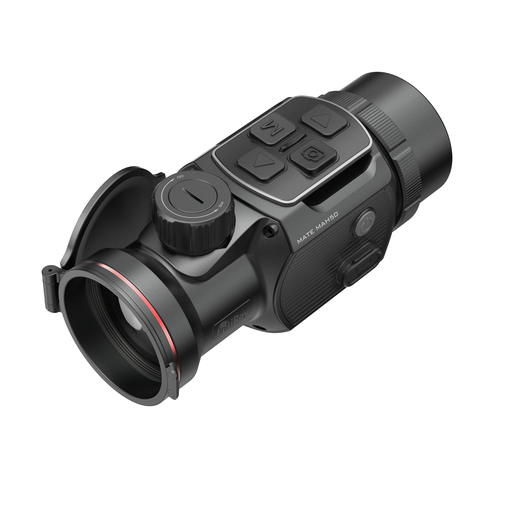 Detector
640 x 512 /12um
Adapter Ring
M52x0.75
Human recognition
2597 m
Frame Rate, Hz
50
NETD
≤25mK
Frame rate
50Hz
FOV
8.8°x7°
Objective Lens
50mm
Laser pointer
No
Diopter compensation
N/A
Optical zoom
1x
Electonic zoom
1 – 4x
Battery life
4h +7h
Battery type
Built-in Battery + Infiray Battery Pack
Display
1024×768 OLED
Storage
32GB
Recoil proof
Yes, 8000J
Mounting options
Handheld, scope-mounted
Weight
530 g
Dimensions
146 x 62 x 73 mm
IP rating
IP67
Operating temperature
-10°C to + 50°C
Storge temperature
-10°C to + 50°C
Other characteristics

Bluetooth remote control

Variety of Power Supply Options (USB-C)
Power Bank in Box