Description
The RNVG is a ruggedized non-articulating binocular built to withstand the roughest use. The simplistic desing of the housing made out of CNC machined billet 7075 aluminium increases impact resistnace and reinforces common breakage points – making it the toughest unit with the best structural strenght out there.
The optic pods traverse on the bridge during interpupilary adjustment  The distance of pods between one eye and the other are adjusted by turning dual knobs on either side of the bridge.
The RNVG binocular incorporates built-in IR LED for close quarter missions with separate IR-ON indicator and low battery indicator in the field of view.
Two knobs – 1. OF-ON-IR / 2. Manual Gain
No external battery port – Why? The RNVG uses standard CR123A batteries as commonly found in lasers or flashlights. A single battery provides over 25h run time.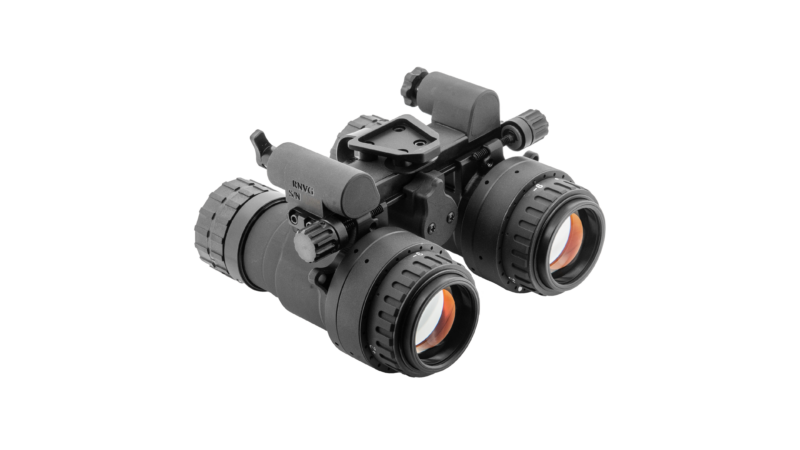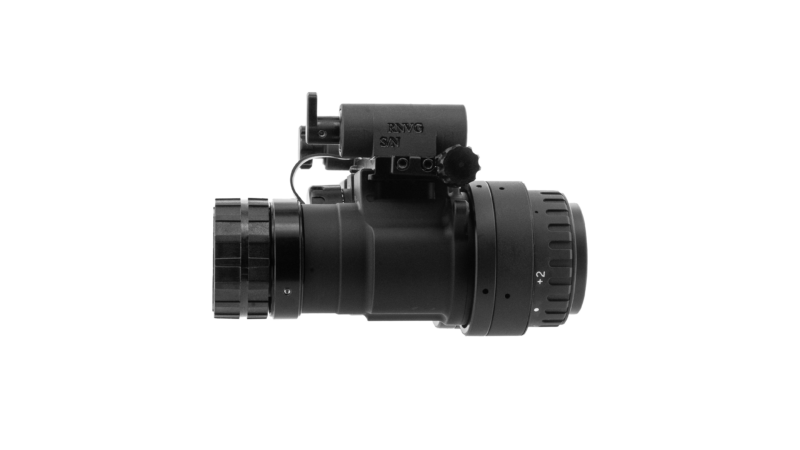 Image Intensifier Tubes (IIT)
Photonis ECHO 16mm White Phosphor
Finish
Matte Black, Anodized, Corrosion Resistant
billet 7075 aluminum body
Capability
Built-in IR LED with "IR-on" indicator in FOV
Low battery indicator in FOV
Waterproof: 20m (66ft)
Manual Gain
Autogated 
Magnification
1x
Diopter compensation
-6 to +2 dpt
Battery Life
25 h
Infrared illuminator
yes
Interpupillary adjustment
51 to 73mm
True field of view
38°
Close focus limit
0.25 m to ∞
Power Supply
1x CR123
Dimensions
119 x 106 x 71 mm
Weight
540 g